If you like white wines, you have surely heard of Albariño, one of the most famous and appreciated wines from Spain and Portugal. But do you know what Albariño is and what makes it so special? In this article we tell you everything about this unique wine and we invite you to try it with us at ADHUC TEMPUS, your online wine shop of trust.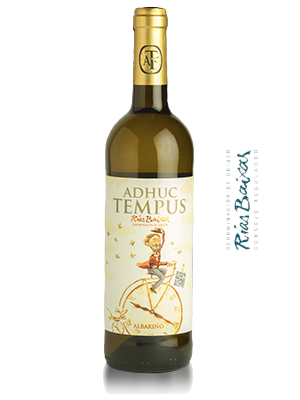 Albariño is a white grape variety that is grown mainly in the Rías Baixas, a coastal area of Galicia, and in the north of Portugal, where it is known as Alvarinho. The Atlantic climate, with mild temperatures, humidity and rain, favors the development of this grape, which gives rise to fresh, aromatic and elegant white wines.
We at ADHUC TEMPUS are passionate about Albariño and we know it well. That's why we can tell you that Albariño is characterized by having a balanced acidity, a light body and a moderate alcohol content. Its aromas remind of white fruits, citrus, flowers and herbs. In the mouth it is dry, tasty and persistent. It is a wine that will surprise you for its quality and personality.
Albariño is a very versatile wine that can be enjoyed alone or accompanied by a wide variety of dishes, especially fish, seafood, soft cheeses and salads. It is the perfect wine for a family meal, a romantic dinner or a meeting with friends. Albariño always succeeds and leaves a good taste in your mouth.
Albariño is mainly made as a single-varietal wine, that is, using only this grape. However, it can also be blended with other native varieties such as Loureiro, Treixadura or Godello to give rise to more complex wines with different nuances. Albariño can also be made as a sparkling wine or as a needle wine, with a slight natural bubble.
Albariño has a long history that dates back to the 12th century, when the Cistercian monks brought it from France and planted it in the Galician monasteries. Since then, Albariño has been part of the culture and gastronomy of this region, where every year the Albariño Festival is celebrated in Cambados, the capital of wine.
If you want to try a different white wine, with character and flavor, we recommend you to try Albariño. And if you want to buy it at the best price and with all the guarantees, we recommend you to do it at ADHUC TEMPUS, your online wine shop of trust. On our website you will find a selection of the best Albariños on the market, with an excellent quality-price ratio. We guarantee that you will be satisfied with your purchase and with the service we provide you.
Don't wait any longer and enter www.adhuctempus.com to discover our catalog of wines. And if you have any questions or queries, do not hesitate to contact us. We will be happy to assist you and advise you.